You are officially invited to participate in the most engaging, most fun, and most friendly competition in which you may ever be involved.  Participation in the College Cup Challenge provides the opportunity to:
Build spirit within your residential group

Enjoy some friendly competition

Get acquainted with the Truman Campus

Meet other first-year and new transfer students

Display your talents and abilities

Challenge yourself to try something new

Have a great time during your Truman Week experience

Laugh, shout, scream, chant, and celebrate!
The object of the College Cup Challenge is to win the coveted College Cup!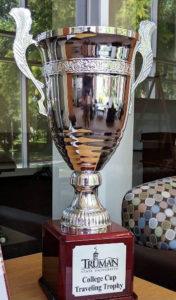 The team that earns the most points during the week gets to display the College Cup in a prominent location for the entire year.  If your team wins, you earn bragging rights for your entire first year at Truman!
You can earn points for your team and for yourself in two ways:  Team Events and Individual Events.
The College Cup Challenge is designed to build a sense of community within each team and help students begin to establish important connections with each other. Student teams are created based on where students live.
The 2021 College Cup Teams are:
Blanton-Nasor-Brewer and Dobson Halls
Centennial Hall
Commuter Students
Missouri Hall
Ryle Hall
West Campus Suites
Team events during the week include:
Inclusivity poster design challenge
Opening Day Carnival wins
Ridiculous Relays
Bulldogs in Action
The Trivia Contest
TruTalent auditioning and being a finalist at The BIG Show!
Details about each team event are available here.
Individual points
Students earn individual points for participating in any of ht events on the schedule that have a tropy icon next to them.  That can be as easy as attending specific events, representing your team in the team events, and even by completing the four modules in the Blackboard Class – Becoming a Bulldog 2021, required for all incoming students to complete BEFORE Wednesday, August 18!  Students need to check their schedules very closely, because some events may be offered only once, and others may be offered multiple times.  Any individual points earned also get added to the overall team total, so take a friend and get going!
Don't worry that some teams may have more people on them than others.  We weight the scores so it is just as likely for a smaller team to win as it is for the larger teams.
Here's some examples of Individual point-earning opportunities.  These are offered during flexible times and optional sessions so you don't have to miss any of the important, required portions of Truman Week.
Blackboard modules completed by midnight, August 17.
Participation points for info sessions and activities such as:

Attending and playing games at the opening day carnival
Working out at the Rec Center
Touring the Rec Center and/or the Student Union Building
Spike's Super Special Scavenger hunt
Solving the Library's mystery tour
ROTC Obstacle Course
Got to the Planetarium to see Space Exploration
Check out exhibits at one or both of the Galleries in Ophelia Parish
Mindfulness at Truman
Campus Folklore Tour
Or by attending any of the following sessions that provide information about services and opportunities available during your time at Truman.
Caring for your physical and mental health at Truman.
My Multicultural Self
Fitness, Wellness, and Recreation at Truman
Movie "Crash" and discussion
Making the most of your Truman Technology Experience
Is your individual life really diverse?
Pre-Med Student Information Session
Pre-Law Student Information Sessions
Peace Corps Preparation, International Studies, and Global Affairs
Customize your major with Interdisciplinary Studies
Master of Arts in Education
McNair Program
STEP/MOLSAMP
ROTC Scholarship Opportunities