How to Fail Successfully: The Science of How to Use Setbacks as Stepping Stones
Thursday, Aug. 19, 2021 | 7-8:20 p.m.
Baldwin Auditorium
Join Diana Kander as you contemplate tackling big projects and learning from mistakes.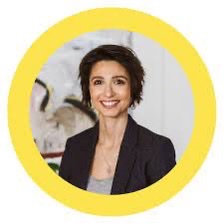 The biggest obstacle standing in your way as a student is that you have no idea how to fail.
You have been practicing failure abstinence your whole lives, trying to get as far from failure as possible. Focusing all of your time and training on successfully completing the tasks and projects you have been assigned.
It's impossible to grow if you don't have a clear understanding of what failure looks like, how to recognize it, what to do about it once you notice, and how to find the lessons and opportunities in every setback. That's because our natural human instincts during a failure will only exacerbate the problem and cause added harm and damage.  It's actually very similar to our instinctual reaction to a fall.
Failure is not necessarily a stepping stone to success. 
You've heard that saying, right? Either we succeed or we learn? Well, unfortunately, that's not what usually happens. In most cases, people don't actually learn or improve after a failure. That's because in order to get to the coveted lessons learned, individuals have to wage war through the 6 stages of failure.
Outcomes:
Understand the 6 stages of failure that all humans experience.
Learn how to navigate the 6 stages without getting stuck in the negative ones like denial or defensiveness.
See why most people don't learn the right lessons after a setback, and
Make sure that you have the proper tools in place to become even stronger afterward.
About Diane Kander
Diana Kander is a New York Times best-selling author of The Curiosity Muscle: How Four Simple Questions Can Uncover Powerful Insights and Exponential Growth and host of the "Professional AF" podcast.
Ms. Kander will explain how familiarity with failure is essential to making real progress. You will leave this session with some powerful takeaways and an orientation toward the growth mindset.