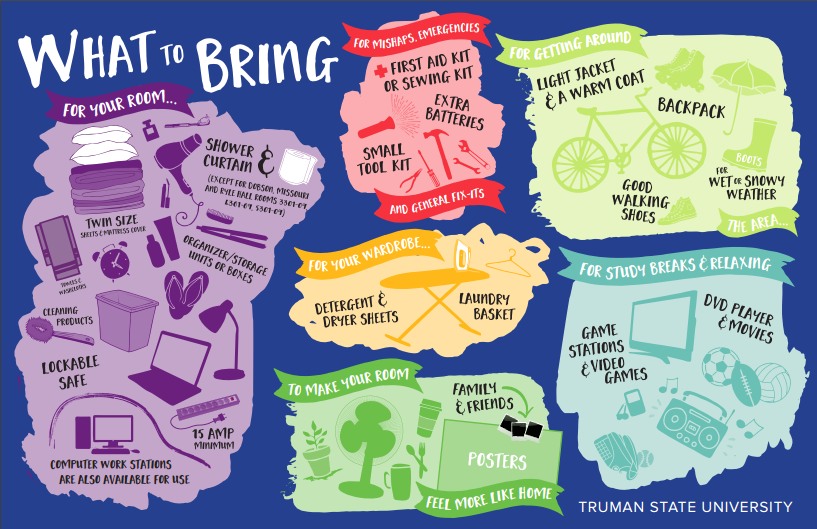 What should you bring when you move to campus? Preparing to move into your new home doesn't have to be stressful when you plan ahead. The list below offers suggestions on what to bring. Don't forget to check in with your roommate to see what they are bringing so you don't waste space on duplicate items.
For your room
a mattress pad and liner
bed linens (standard twin), pillow, blanket and bedspread
towels and washcloths
shower curtain (except for community-style housing)
alarm clock or clock radio
toiletries
hair dryer, curling iron
cleaning products
air freshener
toilet paper (except for community-style housing)
UL extension cords not to exceed 6' in length, 15 AMP minimum
non-halogen desk lamp, floor, or bedside lamp for reading and studying
wastebasket
organizer/storage units or boxes, such as under-the-bed boxes
lockable safe
computer (computer work stations are also available for use)
For your wardrobe
clothes hangers
laundry basket
ironing board and iron
detergent and dryer sheets
For mishaps, emergencies, and general "fix-its"
first-aid kit or sewing kit
flashlight
small tool kit (screwdriver, hammer, pliers, etc.)
extra batteries
For getting around
bicycle
skates
umbrella
backpack
good walking shoes
boots for wet or snowy weather
light jacket and a warm coat
For study breaks and relaxing
television
DVD player & movies
video game consoles & video games
sports equipment (balls, sports shoes, bat, etc.)
To make your new room feel more like home
posters
photos of family, friends and pets
indoor plants
fan
utensils for snacks
favorite coffee or tea mug
Note: Truman is a dry campus. We do not allow any alcohol beverage containers (empty or full) in the residence hall rooms.
What not to bring…
Pets except for fish or small amphibians as they are nonpoisonous and live in a tank (tanks must be less than 10 gallons).
Air Conditioning: Blanton-Nason-Brewer Hall, Campbell Apartments, Missouri Hall, Randolph Apartments, Ryle Hall and West Campus Suites have air conditioning. Students who request air conditioning for Centennial Hall must meet the criteria for a disability and submit the appropriate documentation to the Office of Student Access and Disability so their request can be considered. Questions? Call (660) 785-4478 or email disabilityservices.truman.edu.
---
For more information, visit the Residence Life website or contact the Residence Life Office at (660) 785-4227 or reslife@truman.edu.